Science Engineering and the Environment, LLC (SEE) is a small business enterprise located in Seattle, WA. Established in 2004, SEE is a nationally-recognized firm whose personnel have over 30 years of experience in the characterization and management of aquatic sites.
Recent projects have included sediment characterization and monitoring at Superfund remedial sites including the Lower Duwamish Waterway (WA),  Eagle Harbor Superfund Site (WA), Pacific Sound Resources Superfund (WA) , and Portland Harbor/Willamette River, .  Other examples of SEE-lead projects include material characterization in the Grays Harbor Navigation Improvement project, and the U.S. Moorings Remedial Investigation (OR).
SEE has over 90% repeat business with it's customers, and has consistently earned high marks for it's work. Here are some of the things the SEE's customers are saying:
SEE performed exceptionally in the execution of the Moorings RI. …EPA, in a regulatory role, rapidly gained confidence in SEE's professionalism and expertise … SEE made significant contribution to making this a very successful project for USACE. (U.S. Mooring Project Remedial Investigation)
SEE provided exceptional technical services on a complex project.  The technical team represented some of the brightest and most experienced sediment specialists in the country.  …SEE has performed admirably by producing outstanding draft submittals and actively participating in resolving stakeholder issues. (Eagle Harbor Superfund Remedial Monitoring)
…team did an incredible job executing a difficult sediment characterization task order.  The team was flexible and responsive to schedule challenges and aggressively implemented innovative approaches to sediment characterization.  The team collaborated with government scientists to ensure the final product exceeded expectation of the entire team.  …Tim Thompson exhibited outstanding leadership and technical excellence in getting the project completed on time and within budget.  (Lower Duwamish Waterway Sediment Characterization)
Who is SEE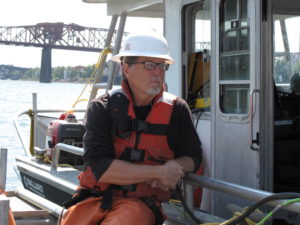 Tim Thompson
Founder & Senior Scientist
Mr. Timothy Thompson is a Senior Environmental Scientist with Science and Engineering for the Environment, LLC. He received his B.Sc. in Agricultural Sciences from the University of Arizona, his M.Sc. in Ocean Sciences from the University of British Columbia, and was a Monbusho Fellow, at the University of Nagasaki and Tokyo Fisheries University, Japan.  Tim has been a practicing professional in environmental science for over 30 years.  His experience includes aquatic site contaminant characterization, ecological and human health risk assessments, site remediation and restoration, and freshwater/marine ecological characterizations. He has been the program manager and principal scientist for several large contaminated aquatic site programs under CERCLA and RCRA. His current work in sediments also includes habitat evaluations and integration of field data with spatial modeling tools, spatial characterization and statistical analysis of bedded sediment data, bedded sediment characterization, water quality monitoring, sediment remediation and ecological risk assessment.  Has served in a peer review capacity for two of the largest contaminated remediation projects in the U.S (the Hudson and Housatonic Rivers), and has several publications on risk assessment and contaminated site management. Tim has served as a member of the EPA's Science Advisory Board's Ecological Process and Effects Committee, and with the EPA's Board of Scientific Counselors.  He is also a senior scientific advisor for the Department of Defense's Strategic Environmental Research and Development Program (SERDP) and the Environmental Security Technology Certification Program (ESTCP).  Tim has also served as an expert witness in high profile aquatic toxicity and sediment characterization cases in federal courts..